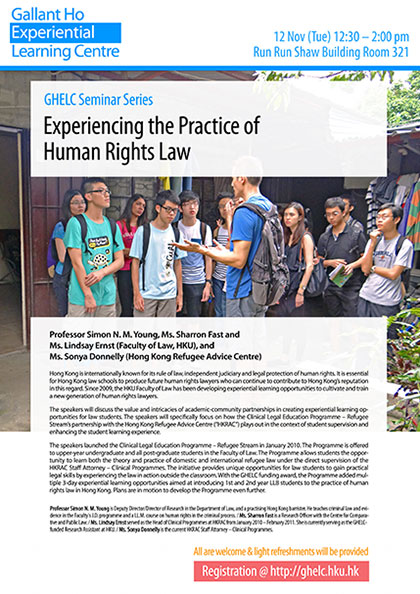 Hong Kong is internationally known for its rule of law, independent judiciary and legal protection of human rights. It is essential for Hong Kong law schools to produce future human rights lawyers who can continue to contribute to Hong Kong's reputation in this regard. Since 2009, the HKU Faculty of Law has been developing experiential learning opportunities to cultivate and train a new generation of human rights lawyers.
The speakers will discuss the value and intricacies of academic-community partnerships in creating experiential learning opportunities for law students. The speakers will specifically focus on how the Clinical Legal Education Programme – Refugee Stream's partnership with the Hong Kong Refugee Advice Centre ("HKRAC") plays out in the context of student supervision and enhancing the student learning experience.
The speakers launched the Clinical Legal Education Programme – Refugee Stream in January 2010. The Programme is offered to upper-year undergraduate and all post-graduate students in the Faculty of Law. The Programme allows students the opportunity to learn both the theory and practice of domestic and international refugee law under the direct supervision of the HKRAC Staff Attorney – Clinical Programmes. The initiative provides unique opportunities for law students to gain practical legal skills by experiencing the law in action outside the classroom. With the GHELC funding award, the Programme added multiple 3-day experiential learning opportunities aimed at introducing 1st and 2nd year LLB students to the practice of human rights law in Hong Kong. Plans are in motion to develop the Programme even further.