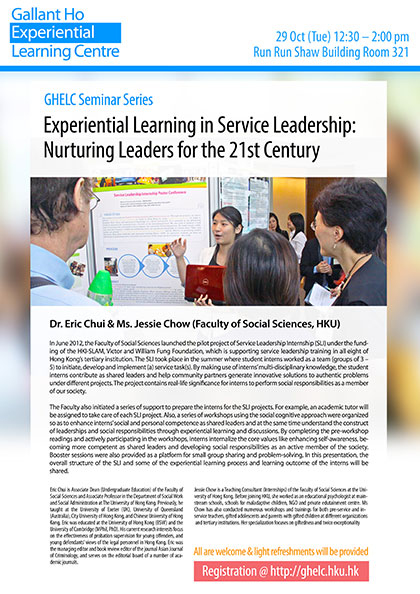 In June 2012, the Faculty of Social Sciences launched the pilot project of Service Leadership Internship (SLI) under the funding of the HKI-SLAM, Victor and William Fung Foundation, which is supporting service leadership training in all eight of Hong Kong's tertiary institution. The SLI took place in the summer where student interns worked as a team (groups of 3 – 5) to initiate, develop and implement (a) service task(s). By making use of interns' multi-disciplinary knowledge, the student interns contribute as shared leaders and help community partners generate innovative solutions to authentic problems under different projects. The project contains real-life significance for interns to perform social responsibilities as a member of our society.
The Faculty also initiated a series of support to prepare the interns for the SLI projects. For example, an academic tutor will be assigned to take care of each SLI project. Also, a series of workshops using the social cognitive approach were organized so as to enhance interns' social and personal competence as shared leaders and at the same time understand the construct of leaderships and social responsibilities through experiential learning and discussions. By completing the pre-workshop readings and actively participating in the workshops, interns internalize the core values like enhancing self-awareness, becoming more competent as shared leaders and developing social responsibilities as an active member of the society. Booster sessions were also provided as a platform for small group sharing and problem-solving.
In this presentation, the overall structure of the SLI and some of the experiential learning process and learning outcome of the interns will be shared.