Introduction of Experiential Learning Fund
---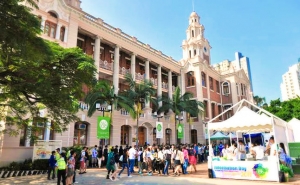 Experiential Learning Fund (ELF) is administered by GHELC for supporting students from all ten Faculties to complete their experiential learning projects. The ELF has supported over 2,300 students to participate in 48 experiential projects in more than 8 countries.
ELF is available to all credit-bearing courses under the formal undergraduate curriculum, including Common Core Courses. The ELF can be used to support both new and existing courses to incorporate experiential learning into the curriculum or to scale up current endeavors. Each student can receive up to HK$4,000 to participate in experiential learning projects. The ELF may also cover project and faculty expenses. There are two rounds of application in each year, with submissions accepted in May and October.
Course Planning and Logistical Support
In addition to ELF, GHELC offers holistic support to Faculties in designing, organizing, and assessing experiential learning. Faculty members are much welcome to meet with us to explore new project ideas, identify suitable project partners and sites, workout budget and assessment plans, design tailor-made workshops for students, and explore multidiscipline project opportunities within and outside the University. Faculty members are encouraged to contact GHELC to explore its 80, and growing, community partners and their projects around the world.
How We Support Experiential Learning
Concept Development:
Our Colleagues are always available to introduce new project and funding opportunities. Faculty members can contact GHELC anytime to explore such oppurtunities.
Proposal Development:
When a project is selected, we will liaise with the community partner to setup meetings (locally) for ideas and expectation sharing. All parties will work together to refine the concept into a mutually beneficial project plan. Assessment and budget plan will also be discussed at this stage. This phase ends with the aim to secure a fund for the project.
Pre-trip Preparation:
We will provide suitable workshops for students or work with faculty members to design unique training to prepare students for the project.
Project Execution:
During the project, GHELC colleagues, course coordinators and community partners will work together and keep in close communication to understand progress and challenges of ongoing work, and handle any crisis.
Project Closure:
At the end of the project, our colleagues will work with course coordinators to summarize the results achieved, lessons learned, and determine how best to generate greatest impact with the result.
Application procedures and forms for downloading