About the Launch Ceremony
---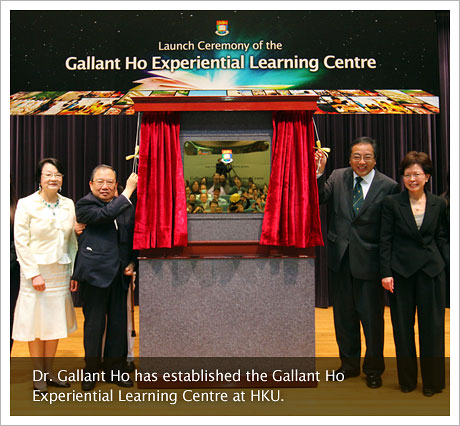 Experiential learning, which enables students to integrate theory and practice, is a distinctive feature of the new undergraduate curriculum at The University of Hong Kong (HKU). This pioneering initiative is made possible with a generous gift of HK$33 million from Dr. Gallant Ho Yiu Tai, distinguished alumnus and long-time supporter of HKU, to establish the Gallant Ho Experiential Learning Centre (GHELC).
The establishment of the GHELC will position HKU as a leading institution in the implementation of experiential learning in the formal curriculum. The gift enables HKU to collaborate with a wide network of local and overseas partners for the benefits of students and community members. Every year the GHELC will support at least 1,000 students from all 10 Faculties to complete their experiential learning projects. The GHELC will also develop the latest pedagogies and assessment methods for experiential learning.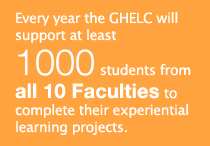 Over 250 staff, students, alumni and friends of HKU attended the Launch Ceremony of the Gallant Ho Experiential Learning Centre on 19 March 2012. At the Ceremony, Dr. Gallant Ho said, "The Experiential Learning Centre hopes to facilitate and promote experiential learning at HKU. The Centre will work with community partners both in and outside Hong Kong to identify projects for HKU students of different disciplines. The Centre will help meet the needs of the community partners as well as the developments of HKU students." Professor Lap-chee Tsui, Vice-Chancellor and President, expressed his deep gratitude to Dr. Gallant Ho and Dr. Rebecca Ho. He also expected students to follow the footsteps of Dr. Gallant Ho and support future generations of HKU students.
Dr. Gallant Ho has also initiated in 2009 the "Gallant Ho Service Learning Scheme – Family Values" with a personal gift of HK$5 million to promote positive Chinese values and provide service learning opportunities for HKU students. The Scheme will be integrated into the work of the GHELC.
---