About Dr. Gallant Ho Yiu Tai
---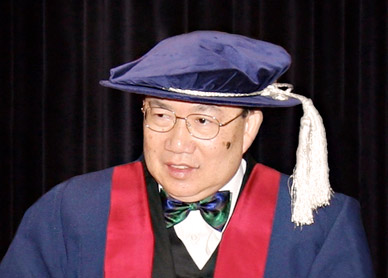 Experiential Learning is a new and distinctive feature of the University's new curriculum. The University of Hong Kong is grateful to Dr. Gallant Ho for making a gift during the University's Centenary to launch the Gallant Ho Experiential Learning Centre.
Dr. Gallant Ho is a sterling example of Hong Kong's adventurous spirit and generosity in serving the community. He graduated from HKU with a First Class Honours Bachelor of Arts Degree in Economics in 1965, soon afterwards ventured into law and founded the Gallant Y. T. Ho & Co. in 1977. His practice grew to become one of the largest local law firms and remains so to this day. Dr. Ho was among the first group of Hong Kong lawyers that pioneered China Practice. In the late 1990s, Dr. Ho started further ventures in Australia and Canada in business, real estate investment and management.
A great believer in public service, he started early when he was elected as one of the youngest Chairmen of the Po Leung Kuk Board of Directors in 1974. Since then he has contributed a lifetime of public service on a multitude of committees and commissions of the government. He served as Deputy to the National People's Congress from 1988 to 1997, and was appointed a Justice of the Peace in 1976 and served for 22 years. Dr. Ho was elected one of the Top 10 Chinese Financial and Intellectual Personality in 2010. In 2005, he received the Arbor Award from the University of Toronto. Dr. Ho also received the U.S. President's Volunteer Service Award in 2011.
Dr. Ho is a staunch supporter of the education sector, establishing two primary schools in his father's honour, and endowing numerous scholarships, bursaries and prizes to schools in Hong Kong and overseas. He was President of the HKU Alumni Association and a Council member of the then Hong Kong Polytechnic. At HKU, he initiated the "Gallant Ho Service Learning Scheme – Family Values" to promote the core values of service and family amongst students.
Dr. Ho was awarded an Honorary University Fellowship by the University in 2007 in recognition of his contributions to Hong Kong and academia.