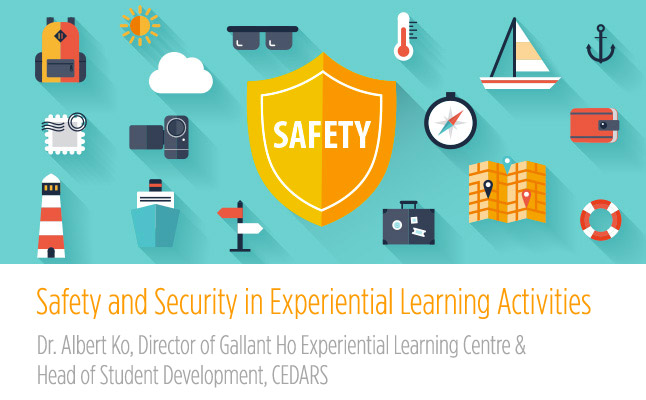 Safety and Security in Non-local Experiential Learning Activities
Albert Ko, Director
Our University is committed to developing a wide variety of experiential learning activities for our students. At the same time we recognize that there are times and places where personal security issues may outweigh the advantages of exposures to non-local experiences; therefore, we would like to share with you few safety and security tips.
Emergency preparation before the trip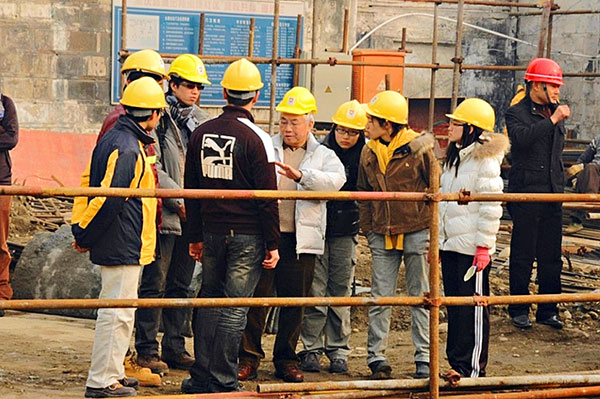 Faculty teachers should provide guidelines and advice for students about the destination of the non-local projects, regarding travel permits, health, safety, faculty emergency contact and other important issues. Students should also take initiative to check the details that is relevant to respective personal situation especially for non-local students.
At HKU, the Group Personal Accident Insurance is in place for basic protection of students. It covers all students participating in any curricular or extracurricular activities of the University, on and off campus within or outside Hong Kong. Faculty teachers and students should carefully read the Group Personal Accident Insurance. If this is not comprehensive enough to meet your needs, you are advised to purchase additional travel insurance before departure.
Faculty teachers and students should also visit the University Health Service's Travel Health Clinic prior to the trip.
We strongly advise faculty teachers and Faculties to assign a designated contact person in University in case of emergency. In addition, contacts for community partners, local emergency aid (i.e. ambulance and police) and details of embassies and immigration offices should always be close-at-hand. Faculty teachers and students should always keep with them extra copies of travel documents and itineraries, local map and extra batteries for communication equipment.
Emergency during the trip
In case of emergency, faculty teachers and students should contact the staff member of HKU or assigned emergency contact of the trip (i.e. contact person of Community Partners). Also, you should contact the insurer.
Staff member of HKU upon receiving the emergency request should contact the assigned person at the Faculty if further assistance is needed.
Guidelines on Suspension of Experiential Learning Activities in relations to Infectious Disease & Travel Alert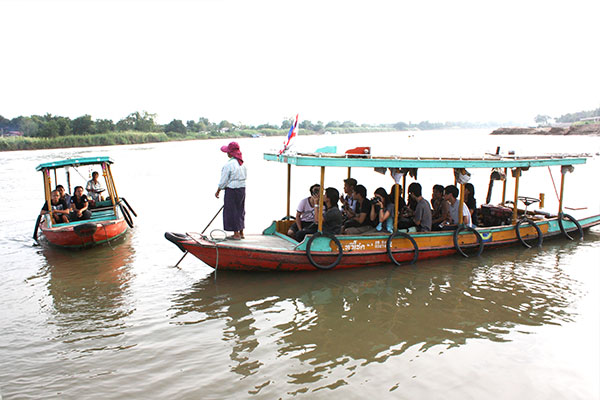 Where there is suspected case of infectious diseases, faculty teachers are advised to report to Faculty/Department to assess the situation and decide whether the experiential learning activities should be suspended. And in case of confirmed case of infectious diseases, the Faculty/Department should assess the suitability of conducting experiential learning activities in the following conditions:
The influenza pandemic alert is raised to Level 6;
Travel restriction is imposed to the destination country by World Health Organisation (WHO);
There is an outbreak or anticipated outbreak in the local community as advised by the local health authority;
Overseas counterparts decide to suspend the activities;
Infectious diseases are spreading in the collaborating Community Partner and under such circumstances students are not able to contact service users, or the Community Partner suspends the experiential learning activity.
In regard to Travel Alert, faculty teachers and students are strongly advised to follow the HKSAR Security Bureau's Outbound Travel Alert (OTA) System. If a Black OTA (Severe Threat) is issued for the destination of the non-local experiential learning activity, all faculty teachers and students should suspend their trip. If a Red OTA (Significant Threat) and Yellow (Monitor Situation) alerts are issued, faculties teachers should consult with their respective faculties and Community Partners and consider all risks that faculty teachers and student may encounter and decide whether it is suitable for students to travel.
Our Centre is organizing a student workshop on Safety and Security for Experiential Learning Activities on March 3, 2014. We urge faculty teachers to invite their students to attend this workshop prior to joining experiential learning activities that will be held during the Reading Week.
Safety and Security for Experiential Learning Activities
Date: Monday March 3, 2014
Time: 12:45pm – 2:00pm
Venue: LE6, Library Extension
Speaker: Dr. Albert Ko, Director of Gallant Ho Experiential Learning Centre & Head of Student Development, CEDARS
Useful Resources:
The GHELC organizes workshops to equip students with necessary skills and knowledge to take full advantage of experiential learning opportunities in unfamiliar environment. Faculty teachers are welcomed to contact us on tailor-made student workshops for their experiential learning courses. Please visit our website (link: http://ghelc.hku.hk/student-workshops/) for more details.
---
News Update
Experiential Learning Student Workshop: Safety and Security for Experiential Learning Activities

All students joining non-local experiential learning activities during the Reading Week are encouraged to join this workshop. The aim of the workshop is to provide basic safety and security preparation for students traveling or working in unfamiliar environment. Students will also be familiarised with necessary techniques and protocol to maintain a well functioning team.
GHELC Symposium 2014 – Experiential Learning @ HKU


To share the best practices of teaching and learning of experiential learning courses in HKU, our Centre is organizing a symposium on March 25, 2014 at The Graduate House, HKU. Community partners and faculty teachers are invited to discuss the insights of university-community engagement, and students will share their learning journeys in experiential learning courses.
---
Past Events
GHELC Seminar Series
Learned-Centered Instruction in Clinical Legal Education: Lessons from a Model Street Law Class


Professor Richard L. Roe of Georgetown University Law Center and D.C. Street Law Clinic shared the teaching and learning of the two-semester clinical program, Street Law High School and illustrated the range of instructional possibilities and values – from instructional methods to learning outcomes.