Ethics in Experiential Learning – What are the issues?

In the last GHELC seminar of this semester, frontline experiential learning teachers from Faculty of Law, Social Sciences and Engineering as well as students and Non Governmental Organisations gathered together to explore the ethical terrain of experiential learning.
The focus of the discussion is on the emerging ethical issues in designing and participating at the experiential learning activities and how we can prepare for it.
There are commonly two outcomes to be achieved for experiential learning: student academic learning outcomes and community impact. From time to time, balancing these two outcomes will give rise to ethical issues and dilemmas. The constraints are: the learning sites at times involve vulnerable populations such as asylum seekers, elders, children or rural population in very remote areas and our students, still a professional in training, have a very restricted timeframe in participating in the project.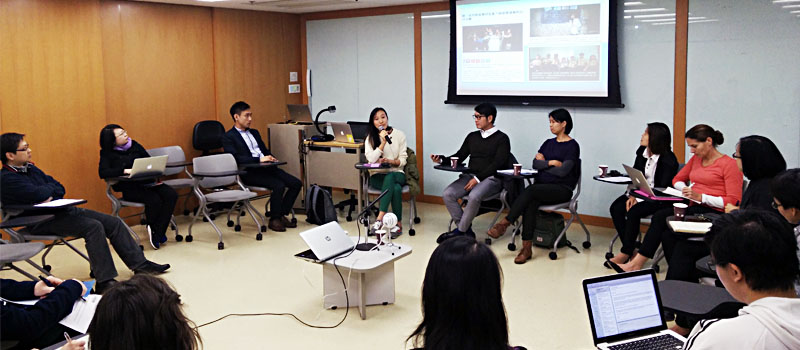 "Best Efforts of Students"
Lucia Choi, currently a psychology major in her final year, has been volunteering for service learning. Her experience taught her that with limited time and capacity, students need to be realistic about what they can accomplish and also make an effort to understand the community needs. In her opinion, some of the projects may have not taken full consideration of the needs of the community. She suggests setting up a network for students to represent the tertiary education sector at the cross-sector experience sharing.
"Role Conflicts"
Dr. George Wong, who coordinates the experiential construction project in the rural area for the Faculty of Engineering, finds that his different roles as teacher, project manager and donor representative in the experiential project, put him into difficult situations at times. Balancing the needs of all stakeholders, including students, community and donor goes beyond the mere heavy workload. Interacting with different players with different, or sometimes even conflicting interests results in difficult decisions which could not satisfy all parties. In hindsight, he would like to have certain guidelines and ethical codes in place to safeguard different stakeholders' interest.
"Personal Value versus Organization Value"
Jessie Chow, Assistant Director, Experiential Learning, Faculty of Social Sciences, pointed out several ethical struggles when students worked on their internship or experiential learning projects in an office setting. Those dilemmas involve workplace diversity and business ethics, and how students could deal with the issues without compromising their own values. The Faculty of Social Sciences has prepared the students with case discussions for ethical issues before sending them out for internship and using the reflective journal, the academic advisers will help the students to analyze the issues from different perspectives. At the same time, the community partners that provide experiential learning opportunities will also be reviewed and updated every year based on the suitability of students learning needs.
"Ethics training an integral part of experiential learning opportunity "
The refugee legal advice clinic – an experiential learning program from the Faculty of Law has a very structured professional ethical training, which integrates fully into the program before and during the experiential learning project. . Lindsay Ernest, Honorary Lecturer from the Faculty of Law, realized that the professional ethics trainings for the refugee legal advice clinic is an integral part of professional international law training.
"Child protection policy for rural community project"
World Vision China representative Wing Yan Mak shared the organisation's practice in response to the ethical concerns which may be related to the experiential learning component. She pointed out two important areas when working with vulnerable community as outsiders: How to protect the vulnerable children and how to protect the best interest of the community. Her organization has a protocol on handling children's information and pictures, and proper behavior with children, such as no spending time with children alone. For protecting the interest of the community, there is an accountability framework, which spells out all stakeholders' roles and responsibilities.
This seminar served as a stimulus and forum for experiential learning practitioners to discuss ethical considerations related to experiential learning activities. GHELC will continue to facilitate the discussion and work with stakeholders to develop strategies to balance student learning and community needs.