Gallant Ho Experiential Learning Centre Seminar Series
---
Experiential learning in social venture management – How and What students learn in the process of setting up quality social business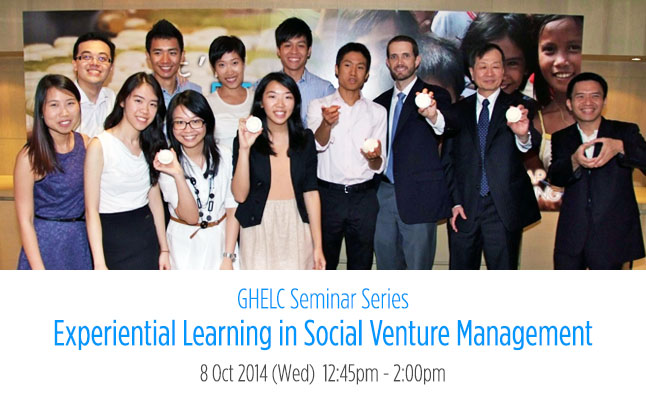 Date: 8 October 2014 (Wednesday)
Time: 12:45pm – 2:00pm
Venue: RR321, Run Run Shaw Buiding
Speaker: Mr. David Bishop (Principal Lecturer, Faculty of Business and Economics, HKU)
About the Seminar:
HKU is working to develop the leaders of tomorrow who will carry Asia through the next 50 years. BUSI2812 helps to accomplish this goal by providing leadership opportunities for students in socially minded companies. It is a a 6-credit experiential learning course that gives students an opportunity to work directly for social ventures in management level roles under the guidance of a faculty instructor and professional mentors. Students are given opportunities to manage teams, solve real-life problems, and gain hands-on business experience, while simultaneously enhancing their soft skills and greatly improving their ability to compete in the job market.
In this seminar you will hear from the course instructor, business leaders, and the students themselves concerning what they have learned along the way. So far our students have helped build 3 businesses from the ground up, and expand others. Their businesses have received
significant media attention and industry praise. Most importantly, these businesses are positively impacting society, and are providing an example of quality social entrepreneurship for the region.
About the Speakers
David Bishop is a Principal Lecturer at the University of Hong Kong and Fudan University, Shanghai. He has broad legal experience in the United States and across Asia, particularly China. He has also acted as outside counsel in connection with various corporate, technology, life sciences and commercial matters for MNCs operating in Asia.
In addition to a robust private legal experience, Mr. Bishop focuses significant time on activities and programs providing direct benefit to the community. He consults companies about their ethics, CSR, pro bono, and social entrepreneurship initiatives, and is founder and director of multiple non-profit companies. He and his students are constantly looking for commercial solutions to complex societal problems.